holiday scented candle by finch
It's back in limited quantity! Our Burnt Orange Pine scent…timeless for the season and hand poured in Hudson. Don't miss out - grab yours before it's gone.
snoopy mug by astier de villatte
Bringing together the talented ceramicist team at Astier de Villatte and Charles Schulz iconic Peanuts characters - this mug casts Snoopy at its helm, perched upon a brilliant white glazed terracotta topper.
purchase - $235
bridie hall brush pot
Hailing from New Zealand, Bridie Hall creates bright and happy glass tumblers, inlaid with gold vinyl - from her London workroom. Perfect for a loved one's desk, or even to hold some of your favorite flowers.
PURCHASE - $48
catherine mug by astier de villatte
Created by the French sculptor Serena Carone and handmade in Paris. Adorned with an 18th century inspired gold accented multicolored ring attached to the handle. Handmade by Astier de Villatte. A very special piece.
Purchase - $285
1950s thonet shearling armchair
A sculptural oakwood lounge chair with a beautifully shaped ladder back - recently upholstered in a soft natural shearling that delights to the touch. Gorgeous from any angle.
Trois Parfums Historique set by astier de villatte
Intoxicating, powerful and delightful describes the three meticulously researched fragrances curated by historian Annick Le Guérant including scents from ancient Egypt, early Roman Empire and 19th century French Royal Court.
purchase - $220
blacksaw siempre recycled alpaca blanket
This holiday season - curl up by the fireplace, get cozy & enjoy the enveloping Siempre blanket, made from 100% recycled alpaca wool.
purchase - $350
Facial Mist Collection Set by Arq Botanics
Packed with health benefits, along with a blissful scent - the active botanical facial mists truly care for your skin with powerful, sustainable, natural ingredients. Luxurious set of four.
purchase - $88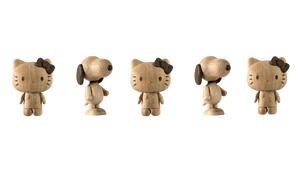 childhood classics by boyhood
Hello kitty & snoopy..
better than ever
votive set by finch
FINCH brings you a set of our classic candle scents... Rituals, Fireside and Sexy Gardener… now in votive size, all hand-poured in Hudson.
Rains Harbin Puffer
Ideal for urban outings, mountain slopes, or the chilly Hudson Valley winter, the Harbin Puffer Jacket is not only waterproof, windproof, and breathable but also delivers both warmth and functionality without the use of feathers.
purchase - $730
Porter Tanker Waist Bag
The Porter Yoshida & Co. Tanker waist bag is an homage to a classic flight jacket with Porter's signature "rescue orange" interior lining.  Adjustable strap and a variety of pockets for a convenient small-carry solution.
purchase - $280
Closed Cropped Puffer Jacket
Embrace the cold in style. This water repellent nylon puffer jacket is lined with vegan material from recycled bottles. Your eco-friendly fashion elegance this holiday season.
purchase - $795
1970s Falcon Chair w/ Steel Frame by Sigurd Ressell
Norwegian designer Sigurd Ressell created a number of memorable mid-century furniture pieces - none more famous than his "Falcon" chair. This iteration boasts an impeccable leather patina, a timeless canvas sling and a coveted chromed steel frame.